(This article was originally posted on the Relaxed Machinery Community pages: http://relaxedmachinery.ning.com/pro...=04qhvvtc891gd)

It's not everyday you find a musician with a deep affection for one single instrument. Usually we see that connection in traditional ways, between the violin virtuoso and the 200-year-old Stradivarius, or the classical guitarist with the hand-crafted Ramirez, but it's too easy for electronic instruments to get pushed aside as merely technical pieces of gear. Not the case with space ambient artist Jaja, who has found a love for her instrument of choice, the classic Roland JD-800, or as she likes to call it, her starship.


"It is a big control panel, like in a cockpit of a starship (I am a big Voyager fan, you have to know)," Jaja says, describing the impressive bank of live control sliders that dominate the JD-800. We find Jaja in her home of Cologne, Germany, where she releases her epic ambient journeys through the cosmos on the Cyan Music netlabel, an electronic music Creative Commons label she co-founded. As she writes us, she is currently between projects.

port 1.jpg

"I am in an inspiration time, after releasing nearly seven hours of music this year on three releases. I need those inspiring times where I collect emotive and meditative moments," she says, and with those three new releases, Stars, Startrail, and Endless, she has definitely shown inspiration from her starship, as the Roland JD-800 was enthusiastically credited as the only instrument she used on all the albums. This is a big change from a few years ago, when Jaja recorded her very first ambient albums using Native Instruments' Kontakt, which she soon found to be an obstacle to creativity.

"I felt so limited by software synthesizers," Jaja says, preferring live control to mice, menus, and technical savvy, "I have no patience to follow manuals and watch tutorials."

This started her search for a much more intuitive, hands-on instrument.

"I was really looking for the best hardware synthesizer that would meet my interests and my kind of being the most. It was summer 2012, and I looked for synthesizers with faders and knobs because I am so un-technical with digital computer producing. Also, the digital sound always sounded un-whole to me," Jaja says.

That's when the Roland JD-800, a digital synthesizer model from 20 years ago, caught her attention.

"When I saw it for the very first time in the Internet, I totally felt in love, because it is a big starship, and it has so many knobs and faders, as if it was made for me. Sound demos where wonderful and after a little deeper research I got the perfect JD-800 in best condition, 1991 model, from a sound studio's owner here in Cologne. Absolute luck!" she says.

Jaja was quick to incorporate the synth on a majority of her 2012 album,Talis, and made it her sole synthesizer on her 2013 album, Here, before releasing her three 2014 albums, which featured entirely the sound of JD-800, with only the addition of an external reverb unit.

"This synthesizer is giving me the chance to experiment a lot with a sound, and I can use knobs and faders. I do not have the limiting access through a computer mouse. I have direct control to filter, amplitude, envelope, LFOs and the keys," Jaja says.



It's easy to see the appeal! Anyone who is even slightly interested in synthesizers will immediately see what's so jaw dropping about the Roland JD-800: It is all those dials, sliders, and buttons! Every parameter imaginable on the synthesizer is represented on the control panel as a real live controller, a return to the classic synth designs of the 1970's. Yes, today, we may see more new synthesizers designed like this, like the Roland's Gaia SH-01 or Dave Smith's Prophet 12, but in 1991, this was refreshing! You see, in the 1980's, synthesizer manufacturers began creating more minimal designs, with less and less of those dials, sliders, switches, and live control, favoring digital menus with LCD screens, multi-function buttons, and only one lonely data slider to program everything. For an extra cost, Roland did offer external programmers, modular units sold separately, that offered a full bank of sliders, dials, and switches that would plug into your synth via MIDI. To give you an idea of how these systems worked, here's a video of Relaxed Machinery Community member Synth4ever demonstrating a Roland JX-10, coupled with an external PG-800 programming unit: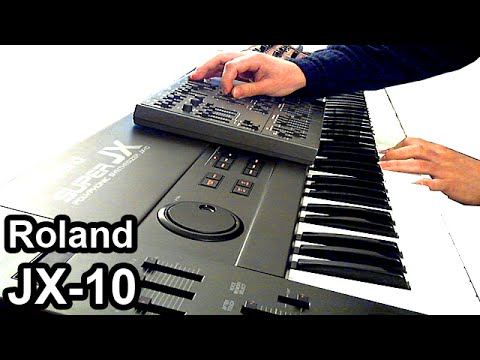 But in 1991, instead of separating the synth from the programmer, Roland took a cue from the past and released the JD-800, specifically including all this live control on-board, making it a legacy of their classic Jupiter-8 synthesizer that was released 10 years earlier, and as Jaja reminded me, the "JD" in the name actually stands for Jupiter Digital. It is this hands-on live control that made the JD stand out in 1991, and remain unique for several more years, because contrarily, Roland and other synth manufacturers would spend several more years returning to the limited minimal designs, and fans of the old-style, hands-on tweak-ability would not see anything else like this until 1996, when Roland released the JP-8000, which didn't have anywhere near the amount of live control that the JD featured.

In addition to the live sliders and switches being a classic touch, so too was the sound: The JD-800 can be seen as a true lineage-holder to the popular Roland D-50, containing a similar warm character and design to that synth, while improving it with new sampled waveforms and multi-mode filters. Fans of the D-50 remark that successors like the D-10 and D-20 lacked the character of the 50, and even Roland's 1989 flagship synth, the D-70, actually had more in common with Roland's U-20 sample playback focused design than the classic D-50. In the end, the JD-800 was the new flagship, containing some of the best ideas from Roland in an exciting new design. The JD featured a then large, 24-voice polyphony, which could be split up into layers of up to 4 different tones, all easily controllable and mixable on the control panel. Six Megabytes of sample ROM held 108 waveforms, and could be expanded with external ROM cards. According to Wikipedia, sound designer Eric Pershing (who would later found Spectrasonics) recorded the core sample collection and designed the preset sounds, many of which contained complex, colorful pads, as well as fat synth standards. The JD-800 was truly a classic, and with an initial list price of $3000 (US), it was definitely in a higher league.

However, in spite of this innovation, the 1990's would see rapid new technology bulldoze over early digital synthesizers like this, in favor for better sampling technology, higher polyphony, and virtual analog trends. It wouldn't be long before some would consider the sound of a JD-800 to be too dated or technically sub-par. Roland produced the instrument from 1991 to 1993, and today, the musical instrument pricing website prepal.org gives an average online price for a used JD-800 at about $612 (US). So, after two decades, does this jaw-dropper still hold up today? Jaja has good things to say:

"I know a lot of the old hybrid synthesizers have that cold, thin sound, but the JD-800 does not. After all, the JD-800 originates from the Jupiter-8 synthesizer and this is one of the greatest sounding models ever. Especially, the depth and base of the JD-800 is immense and not to compare to other 80's or 90's hybrid or digital synthesizers. You can achieve a great warmth and bass volume that fills a whole room or hall. The JD-800 has it difficulties in the high ends (I call it a little monster for that) but you can manage that if you really love that synth. It is always a challenge. I never will achieve the sound of Schiller or Tangerine Dream, but the synthesizer gives me the chance to show my listeners the profoundness of sound," Jaja says.

And all those sliders? This is where the JD really shines in her composition:

"I always start with a factory preset which contains 4 layers. When I have a sound in mind, I search for a similar preset and shape the 4 layers until I find the starting sounds. Then I test each of the single layers for live modulating, changes and how to find back to the sound that I started with. This is how I experiment with all 4 layers, and also how they sound in possible combinations, rows and live variegation. I prepare a bit and i compose a theme in that time, this goes hand in hand. Then I press the record button and immerse in sounds. Often I shorten the preparation phase and start quickly after sound creation, this is more surprise!" Jaja says.

To give us all an idea of what this experience is like, Jaja was nice enough to treat us to this demo video:

You can see her using the multi-layer technique she described, as well as showing off the JD's warmth and rich low end.

Despite finding a dream synthesizer, Jaja does point out that going for a classic used synthesizer is not as easy as simply finding a deal on EBay and expecting something in mint condition. After all, a JD-800 can be over 20 years old! She has this advice:

"Try to find someone who you trust in buying a technical instrument. Visit the seller and talk to him. Test the instrument. I did more than two hours with headphones on. The seller should encourage you to test, and also should tell about the last maintenance. So, I never had problems with my synth. I care for it and I had luck," she says.

In her case, that luck and preparation helped her find a true musical instrument, one she has a deep love for, a love we'll definitely hear more from in her ambient journeys through the cosmos.

Check out Jaja's latest releases with the JD-800 and more at: http://www.cyan-music.com/jaja/