Dear ambientonline users,
Leap Into The Void announces Beauty From A Synthesizer with 50% off pre-release offer.
128 fresh pads and leads for Massive.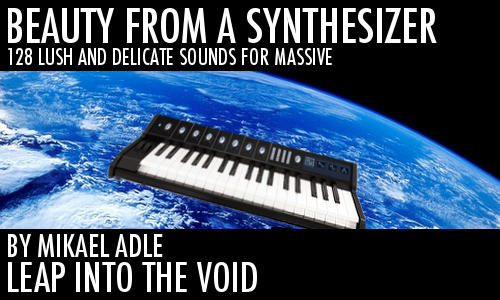 Exquisite and delicious
Warm, evolving, analog, lush, synthetic, dreamy, ambient and cinematic.
Beauty From A Synthesizer is a library with focus on the beautiful.
Evolving and lush pads, analog warmth, gentle, tender leads and breaths of fresh air. A library full of pads and leads and also soundscapes and bass sounds with instant gratification in mind. Load any lead sound and play your favorite melody, load any pad and be swept away completely.
Every sound is tagged by type and comes with a detailed description in the comments field. All sounds are designed with careful assignment of each macro knob with maximum focus on the specific character of the sound and it's intended use where subtle or more dramatic changes are perfectly in tune with the preset.
The idea behind this soundset project is partly based on Camel Audios wonderful initiative to give a percentage to the planet. Our planet earth. But mostly, simply just because I want to try to remind us of our beautiful nature and everything in it and to handle it with care.
2% of all sales goes to naturarvet (nature heritage), a Swedish initiative to save the very old and deep forests and WWF, the world wildlife fund.
The sounds are suited for genres such as ambient, electronica, minimal, techno, IDM, EDM and also rock, progressive rock, hip hop, pop, film scoring or games production.
Please have a listen.
https://soundcloud.com/leap-into-the-void/beauty-from-a-synthesizer
All sounds comes from Beauty From A Synthesizer.
No fx or processing apart from a small amount of limiter on the output.
For every tenth order I will pick one random person of the ten to receive a free copy of your choice from either The Serpent, Darker Than Dark Within Bloom or the next coming library from Leap Into The Void.
Beauty From A Synthesizer
128 alluring pads, leads, soundscapes and bass sounds.
50% off pre-release offer at € 9.97
The full price will be € 19.95
Release date is yet to be announced.
Order here.
regards
Mikael Adle
Leap Into The Void