Dear ambient online readers
Leap Into The Void releases "Omin Obscurus Atmosphaerum" for Massive.
Imagine the atmospheres of the deepest forests, harsh deserts, arctic storms, the ambience of a ghost city, the tail of a comet, industries inside a tomb combined with grains of spirituality and, you have just perfectly depicted Omin Obscurus Atmosphaerum in it's essence.
This is a Leap Into The Void library for Massive.
Cinematic, death ambient, drone, noise, industrial, spiritual.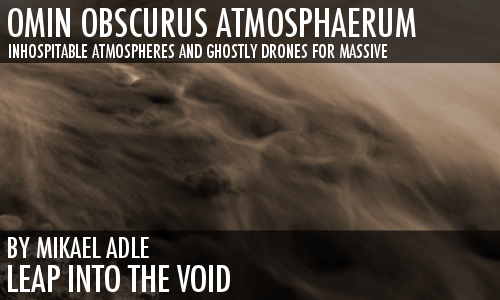 Omin Obscurus Atmosphaerum.
A title speaks more than a thousand words.
Please have a listen to the demos.
https://soundcloud.com/leap-into-the-void/sets/omin-obscurus-atmosphaerum
All sounds heard come from Omin Obscurus Atmosphaerum.
No fx used but a small amount of limiter on the output.
Purchase now and save 30%.
Intro price available through october 2014. Use discount code: OMIN30
Read more and place your order
here.
Thanks for reading.
Mikael Adle
Leap Into The Void