Dear ambientonline forum readers.
Leap Into The Void invites you to The Abyss.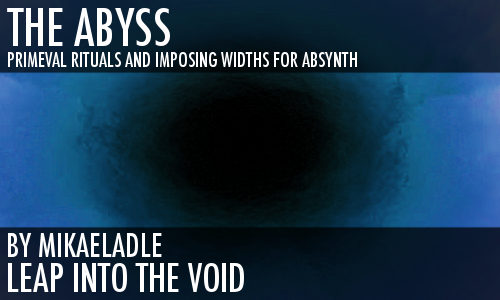 The Abyss
(Latin
Abyssus
bottomless) is an infinite
Leap Into The Void
of primeval rituals and imposing widths.
Pushed towards immeasurable amounts of audiovisual colors. Everything in The Abyss is organic, static and alive at the same time, where time is non-existent.
Vast is shallow, The Abyss is deep and filled with darkness of the profound and post modern art electronica.
You could think of it as a new phase derived and progressed from the
Enchantment volumes
. The sounds of The Abyss contains completely new sound design discoveries and is also built from the now vast Leap Into The Void collection of specially tailored waveforms and envelopes. There are roughly 600 sculpted waveforms each tailored for the specific module.
Main focus are tempo-synced sounds of form and un-form, all the way from thunderous, distorted and noisy to ultra short clicks and glitches. Second focus are long sounds, be it drones, soundscapes, obscured bells and sounds with long release. Third focus are sounds of various category.
Feedback has played an important role while designing The Abyss.
To try to enable as much sound shaping as possible using the assigned macro faders, I've decided to mainly use two channels. This does of course vary depending on the preset.
Details:
105 presets.
Coherent mapping of the macro faders.
Soundshaping possibilities beyond.
Detailed patch list with comments and descriptions of each sound.
All sounds are based on sculpted and hand drawn or stock waveforms (no samples used).
Absynth 5.2 required.
Intro price € 20,97.
Please have a listen to the demo compositions below.
https://soundcloud.com/leap-into-the-void/sets/the-abyss
All sounds heard come from The Abyss with no fx used but a Low cut (below 40Hz) EQ and a small amount of limiter on the output.
From here on I'd like to welcome you to take part of this new order of intrepid voluptuous sculptural dissonance and grand widths.
The Abyss.
Mikael Adle
Leap Into The Void