Dear ambient online forum readers
Leap Into The Void announces "Pads Of The Sky" for Absynth.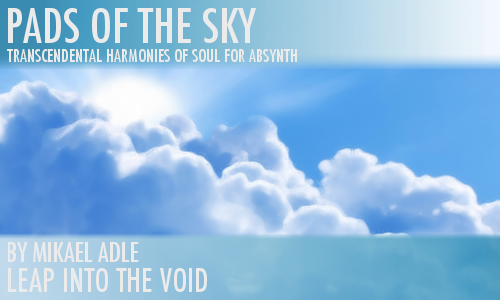 Pads Of The Sky is what I'd like to call a fairytale with transcendental dreams on clouds. It is a collection of warm, gracious and delicate pads together with keys, leads and bass sounds with direct and inviting expressiveness on all of the 72 sounds contained in this soundset.
All sounds range from basic to the more esoteric and have been designed with harmony and positive energy in mind. Pads Of The Sky.
Please have a listen to the demos.
https://soundcloud.com/leap-into-the-void/sets/pads-of-the-sky
All sounds heard come from the soundset with no fx used but a small amount of limiter on the output.
It is available now for € 13,27 (30% off) for a limited time.
Thanks for reading
Mikael Adle
Leap Into The Void