Dear ambient-online readers and followers.
Let me introduce you to a new soundset in the pipeline.
Memento Mori for Absynth.
Pre-order now and save 30%!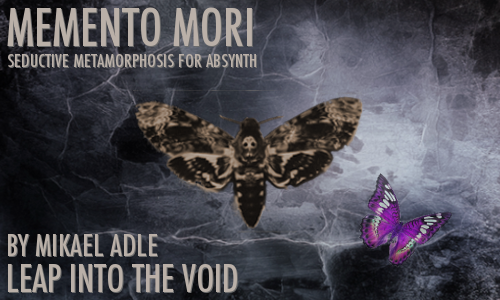 Memento Mori.
Soundscapes, pads and melodical sounds, seductive and spiritual with an attention towards the immortality of the soul and the afterlife.
Memento Mori for Absynth is filled with evolving atmospheres, metamorphosis and tempo-synced soundscapes with just enough rhythmic subtlety to manifest eternity. It is filled with meticulously handcrafted and expressive sounds for your enigmatic melodies. A celebration to life with all it's wonders and fragility and to the afterlife and it's eternity.
Memento Mori
for Absynth is available to pre-order for €24,46 (30% off) until release. Use discount code: MEMENTOPRE
Full price: € 34,95.
As with previous Leap Into The Void Absynth releases all sounds are based on wavetables (no samples used).
Memento Mori will contain 100+ sounds.
Estimated release is early September.
Please have a listen to all the demos and/or place your order
here.
Thanks for reading.
Mikael Adle
Leap Into The Void
All sounds heard come from the included presets with no fx used but a Low cut EQ (below 40Hz) and a small amount of limiter on the output.