Dear ambient-online members and readers.
I am excited and delighted to announce a new soundset for the modern wavetable monster synth Xfer Serum.
Shadows Of Luring Attraction.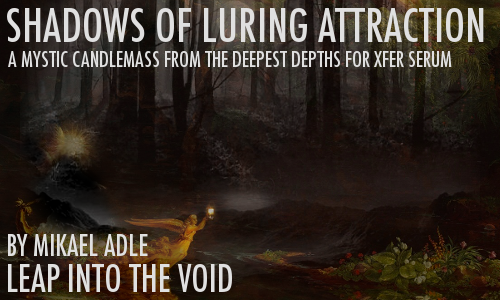 Shadows Of Luring Attraction
- soundset for Xfer Serum.
The beyond darkness and divinity.
A mystic candlemas from the deepest depths.
Shadows Of Luring Attraction
contains dark soundscapes, atmospheres from the shadows, tempo-synced sequences, rites, ever-evolving drones, noise, textures, seances, pads, synth sounds and more.
It's intended use lies within any dark music, electronic, ambient, cinematic and experimental, just between reality and the imaginable unimaginable.
All sounds come with careful assignments of the macro knobs enabling a massive amount of coloring and morphing possibilities to create organic and subtly changing audiovisual surroundings through more pronounced and dominant changes towards and into complete unrecognizability.
Details:
- 102 presets.
- Vast sound shaping possibilities using the assigned macro knobs.
- Detailed patchlist with descriptions and comments, including the assignments.
- Serum 1.1x required
Time limited intro discount 30% off!
https://soundcloud.com/leap-into-the-void/sets/shadows-of-luring-attraction

All sounds heard come from the included presets with no fx used but a small amount of limiter on the output.
Thanks for reading.
Mikael Adle
Leap Into The Void