Toolbox
for
Soundtoys FX Rack
contains a versatile collection of 107 presets (including some variations) for a wide variety of styles. From dreamy ambient spaces to edgy beat processing to intricate delay lines and groovy pad gaters, from endlessly sustained ambiences and creamy filter-scapes to total sonic mayhem, from deep flangers and modulated tapestry to outstanding instrumental spaces, just pick a preset from your toolbox and start making music. All presets are programmed 100% wet for inserting the effect rack on a bus.
You can view/download the PDF for this set including the licence agreement, technical info and a patchlist
here
.
Specs:
*107 patches including some variations.
*Programmed 100% wet for bus insert.
*Delivery: E-Mail.
*Price: € 22 EUR.
Patch categories
*Atmospheres (39)
*Drum FX (13)
*Filter Scapes (10)
*Rhythmical (30)
*Spaces (15)
Product page.
Please note:
Soundtoys version 5.2 will be needed in order to use the presets from this expansion.
----
All demos below start dry and were produced, using only effects provided by the patches from Toolbox.
Video playlist which also includes some of my other Soundtoys experiments towards the end of the list: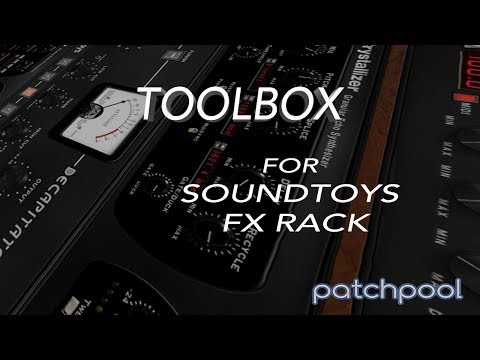 Thanks for reading.
Simon