Dear ambient online members and readers
I am very proud to announce Leap Into The Void's first official contribution to the magnificent hybrid synth Falcon by UVI. Please welcome...
Evocative Symbolic Orchestra.
Order now and save 35%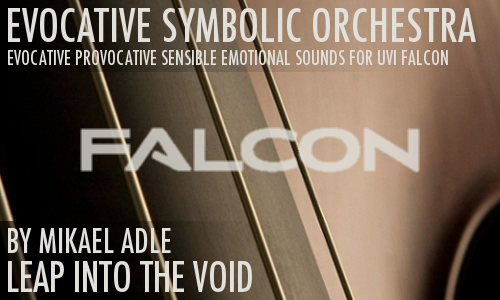 Evocative, provocative, sensible, emotional, dark and divined sounds for UVI Falcon.
Evocative Symbolic Orchestra
is a complete nucleosynthesized orchestra for your audiovisual pleasures.
You'll find everything from tempo-synced concrete abstractions of doom, suggestive rites and pulsating escapades to melodic hybrid instruments, pads and synth sounds to textures, ambiences and drones.
Main content is using the analog, noise, pluck and wavetable synthesis parts of Falcon, although there are sample based granular content included aswell.
Suited for cinematic, ambient, electronic, dark, epic, tribal, experimental, seductive, traditional and hybrid composing.
Details:
160 sounds with vast sound shaping possibilities from the assigned macro knobs.
Available now for € 31,85 for a limited time.
Full price € 49.
Product page.
https://soundcloud.com/leap-into-the-void/sets/evocative-symbolic-orchestra
All sounds heard in the demos come from the included presets with no fx used but a small amount of limiter on the output.
Thanks for reading.
Mikael Adle
Leap Into The Void