I have just released my preset expansion Carmen for BYOME.
Carmen
for BYOME
Carmen is an ambiguous Latin word meaning chant, magical formular, incantation, poem. Following these terms, Carmen for
Unfiltered Audio BYOME
is a unique collection of patches comprising ambient soundscape-makers which will transform the incoming audio into fascinating and wondrous musical and sometimes alien textures. You will also find rhythmical gates, glitch-makers and filter-scapes, granular mayhem and complex delay lines, experimental craziness, deep spaces, stereo madness, complex drum processors and other effect combinations words fail to describe.
All 102 presets are programmed 100% wet for inserting the plug-in on a bus, up to 8 Macros are assigned per patch for quick and easy interaction with the presets.
While programming the presets for Carmen, numerous acoustic instruments, percussion, drums but also synthetic sounds were used as audio input in order to create patches which are useful in a musical context but also for sound design and post production.
You can view/download the PDF for this set including the licence agreement, technical info and a patchlist
here
Specs:
*102 patches, up to 8 Macros assigned per patch.
*Programmed 100% wet for bus insert.
*Delivery: e-mail attachment.
*Price: € 30 EUR.
Product page

.
All demos below were produced using only effects provided by the patches from Carmen.
Audio
Video playlist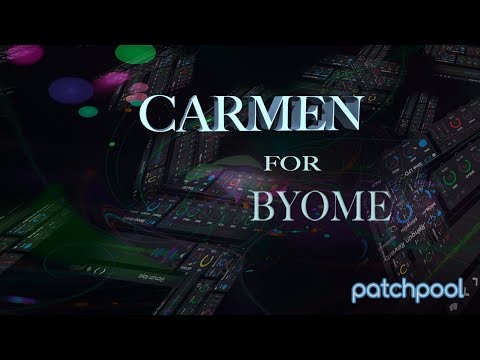 Thank's for reading.
Simon