I just released this:
The Vase
for Alchemy is a Mini Bank, containing 15 patches made entirely from a multisampled vase using unprocessed samples for beautiful and delicate mallet-like instruments and processed, spectralized and metasynthed samples for pads, synths, soundscapes and otherworldly noises.
The vase was played with soft mallets, hitting it at the top, bottom and side, recording 10 variations for each hit (10x Round Robin). It was also played with the hand for claydrum-like sounds (9xRR), it was rubbed with a drumstick, it was filled with water for nice drips and drops and it was resynthed to create keyboard-like instruments.
All vase samples were recorded with 3 Neumann microphones in L-C-R in 48 Khz/24 Bit, a U87 as the center mic - a stereo set of KM 184 for L-R.
As in all my soundsets for Alchemy I make extensive use of Alchemy's complex modulation possibilities and filters, often intermodulating LFOs/MSEGs/Sequencers with each other and assigning numerous parameters to a single Controller. This enables the user to deeply interact with the sounds and shape it according to his needs and preferences. Also the patches can serve as a starting point for the user's own creations when loading new samples into them and then using the pre-assigned Controllers and Snapshots in the Remix Pad.
You can view/download the PDF for this library with more details, the licence agreement, some pics and the patchlist, including playing tips and descriptions for each patch
here
.
The Vase Specs:
229.1 MB of original samples
15 patches with 8 variations each in Alchemy's Remix Pad.
Delivery: Download
Library size in total: 240 MB
NOTE
: This Sound Bank requires the full version of Alchemy.
It does not work with the Alchemy player version.
Price (paypal): € 11 Euro
share*it: € 12.50
Product page
All demos below were produced entirely with Alchemy using only patches from
The Vase
, no post-processing was applied apart from a Limiter on the Outputs.
This is the vase I sampled:
and here is a first video demonstrating one of the patches (audio is offsync but you get the idea):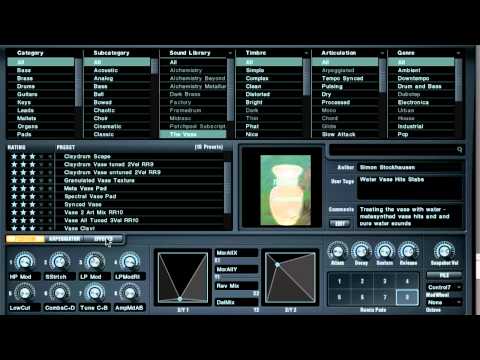 Thank's for reading
Simon